Gaia DPAC 2023 (March 13-17, 2023)
---
Last Update of website: March 9, 2023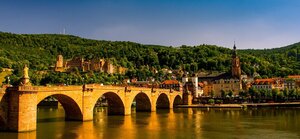 From March 13 to March 17, 2023, the 6th meeting of the Gaia Data Processing and Analysis Consortium (DPAC) will gather representatives from all Coordination Units and Data Processing Centers of DPAC, as well as from ESA. The meeting will take place at the University's meeting venue in the beautiful heart of Heidelberg's historical center.
A detailed program of the plenary and splinter sessions will soon be announced. The number of participants is limited to 200 and participation is restricted to DPAC members only.
Registration is open!! Please take into account that participation requires pre-payment of related fees.
---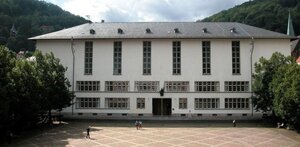 The meeting will take place at the "Neue Universität", located in the lively historic city center of Heidelberg. From 2009 until 2011 this historic building has been completely refurbished to become a modern auditorium which provides all contemporary features necessary to run inspiring lectures and meetings. We have booked a variety of lecture theatres and seminar rooms for plenary and special group meetings. WLAN access (EDUROAM, Guest-access) will be available. Coffee breaks (morning/afternoon) and a lunch buffet will be provided every day during the regular meeting hours.
---
The registration office is located in the inside lobby of the meeting venue.
Opening hours are Monday, 13.3., 8.00-16.00; Tuesday, 14.3., 8.00-16.00; Wednesday, 15.3., 7.30-11.30.
---
Program and additional information for DPAC members
The latest version of the agenda is provided HERE (login required) together with addional internal information for DPAC members. On this internal website we will in due also provide respective ZOOM-links for the various splinter session provides in the framework of the meeting. You will be able to follow the talks, see & hear the audience and will have te chance to post written or oral question. A moderator will for each sessions assist you.
A GOOGLE map of important locations is provided HERE.
---
To further link and enhance collaboration between our participants we offer several social events which are all going to take place in the afternoon of Wednesday, March 15. If you want to participate in one of the events mentioned below please mark the respective event on the registration form. Please note that there is a limited number of participants for each event. Participation is not mandatory, but please register as early as possible in order to ease our pre-planning of events!!
A GOOGLE map of important locations regarding tours is provided HERE. See also advice given below, e.g. starting point of tour.

1. Brewery Tour with beer tasting and Old Town Guided Tour (last updated March 8, 2023)
After an hour-long guided tour through the historical Old Town, a master brewer will explain to you everything from the world of beers. Try three types of beer in the "Kulturbrauerei", with a warm pretzel. After this, a table buffet will be waiting for you in the brewery, offering crispy roast of Schwäbisch-Hall pork on sauerkraut, bacon bread dumplings, braised fillet of veal and barbecued corn poulard on seasonal vegetables, home-made spätzle and buttered potatoes, Mediterranean vegetable casserole with bell pepper, eggplant, zucchini – gratinated with sheep cheese and crème fraîche. Drinks (alc./non-alc.) are at own expenses. The tour starts at 1:30 pm in front of the "Sparkasse Heidelberg" near "Universitätsplatz" (see GOOGLE Map).

2. Wine tasting (last updated March 8, 2023)
The Wine tasting starts directly in the traditional and sociable restaurant "Sudpfanne". There, you will be introduced to excellent regional wines from the Seeger (Leimen) and Heger (Ihringen) wineries. During the wine tasting, you can enjoy a lot of tasty treats from snack platters. Your experience will end with a hearty meal with regional treats. The wine tasting starts at 4 pm directly in the Sudpfannne (see GOOGLE Map).

3. Old Town and Castle Tour (last updated March 8, 2023)
The combined Old Town and Castle Tour brings history to life. Use a guided Tour through the winding alleys of the Old Town to learn about the many facets of Heidelberg – sleepy squares, Germany's oldest university, the "Church of the Holy Spirit" and the Jesuit quarter. After a walk up to the Castle you explore the electoral ruin in a round Tour through the inner courtyard and the Castle garden and visit the famous "Large Barrel". We will provide some snacks during the tour. The tour starts at 1:30 pm in front of the "Löwenbrunnen" near "Universitätsplatz" (see GOOGLE Map).

4. BODY WORLDS – "The Anatomy of Happiness" (last updated March 8, 2023)
Heidelberg is the location of Germany's oldest university and has been a center of medical innovation for centuries. This is one of the reason for the Body Worlds exhibition being located in Heidelberg. Yo will enjoy a guided tour through the KÖRPERWELTEN exhibition accompanied by a medical guide. During the tour you will get an even more intensive insight into the human body, individual diseases will be explained in detail and your questions will be answered directly by your guide. The tour starts at 3 p.m. (15:00) at the entrance of the new BODY WORLDS museum in the Altes Hallenbad (see GOOGLE Map), where you can subsequently explore the exhibition "The Anatomy of Happiness" with its roughly 200 unique human exhibits. Entrance fees will have been payed for you already.
---
Registration is closed now!
---
Local Technical Infrastructure
WIFI will be available at the venue (EDUROAM or Guest Account). Sockets will be provided for your laptop power supply adapters. We will furthermore try to setup videocon/telecon connections to give your external colleagues the chance to take part in the meeting. Respective online links will soon be provided.
---
We remommend the following hotels of low and high standard are located at various but fairly close distances to the meeting venue:
---
In case you have any questions concerning the program of this consortium meeting please contact Michael Biermann (biermann(at)ari.uni-heidelberg.de). Regarding conference logistics, hotel booking, local infrastructure, travelling to/from Heidelberg etc. please contact the ZAH Scientific Manager, Guido Thimm (thimm@uni-heidelberg.de).
---
6th DPAC Consortium Meeting 2023, Heidelberg, Germany
5th DPAC Consortium Meeting 2021, online
4th DPAC Consortium Meeting 2020, online
3rd DPAC Consortium Meeting 2018, Abano Terme, Italy
2nd DPAC Consortium Meeting 2017, Sitges, Spain
1st DPAC Consortium Meeting 2015, Leiden, The Netherlands
---